FACILITY DESCRIPTIONS
The design and construction of the Alamitos Barrier Project (ABP), Dominguez Gap Barrier Project (DGBP), or West Coast Basin Barrier Project (WCBBP) can best be described by dividing the discussion into four categories: General Description, Pressure Reducing Stations, Supply & Transmission Pipelines, and Injection Wells.
WCBBP
The West Coast Basin Barrier Project was expanded from the original experimental investigation at Manhattan Beach in 1953. It now constists of a line of 153 injection wells from the Palos Verdes Hills north to the Los Angeles International Airport, a distance of approximately nine miles. A combination of recycled and imported water is injected into The 200-Foot Sand, The Silverado, and The Lower San Pedro Aquifers. Complementing the injection wells are 296 observation wells. They serve as key indicators of system performance. The observation wells are either internodal wells placed between injection wells or located off the immediate barrier alignment. The wells are used to monitor water surface elevations and depth specific chloride levels.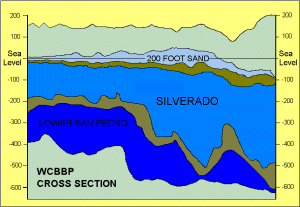 Alignment of the barrier was selected on the basis of geology, hydrology, and availability of rights-of-way. These factors resulted in the selection of Prospect Avenue as a suitable south-to-north alignment through Torrance, Redondo Beach, and Hermosa Beach. The alignment then jogs towards the coastline to connect to the original test project along the Santa Fe Railroad right-of-way in Hermosa Beach. To the north the alignment curves back inland along the right-of-way and then proceeds north from Roscrans Avenue within the Standard Oil property adjacent to Sepulveda Boulevard. At El Segundo Boulevard the alignment jogs two blocks west and then proceeds north to the terminus located at Imperial Highway.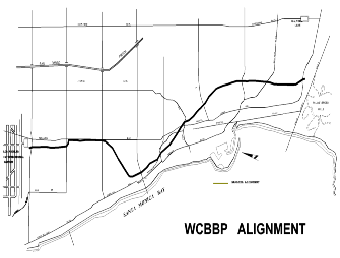 Click Map to Enlarge
Imported water is supplied through the Metropolitan Water District West Coast Feeder to the barrier at the terminal metering location, West Basin 28 (WB-28). Downstream of this connection, the water flow splits between the City of El Segundo's water system and the barrier project. Downstream of a backflow preventer, reclaim water is supplied by the West Basin Municipal Water District. Secondary effluent is pumped from the Hyperion Plant to the West Basin Water Recycling Plant Title 22 and Barrier Treatment Facility and then on to the barrier pipeline transmission system.